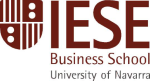 IESE Research Papers
No D/412:
Liderazgo relacional
Pablo Cardona
()
Abstract: El contenido del término liderazgo ha sufrido importantes cambios a lo largo del siglo XX. En esta transformación, cada vez se ha ido dando más peso a la relación que se establece entre líder y colaborador, en lugar de fijarse sólo en ciertas características del líder. Este enfoque recibe el nombre de liderazgo relacional. En este trabajo se distinguen tres tipos de liderazgo relacional: transaccional, transformador y trascendente. Cada tipo de liderazgo produce vínculos distintos entre los colaboradores y el líder, y refleja también distintos comportamientos y valores del líder.
Keywords: liderazgo; (follow links to similar papers)
14 pages, February 14, 2000
Before downloading any of the electronic versions below you should read our statement on copyright.
Download GhostScript for viewing Postscript files and the Acrobat Reader for viewing and printing pdf files.
Full text versions of the paper:


DI-0412.pdf    

Download Statistics
---
---
Questions (including download problems) about the papers in this series should be directed to Noelia Romero ()
Report other problems with accessing this service to Sune Karlsson () or Helena Lundin ().
Programing by
Design Joakim Ekebom