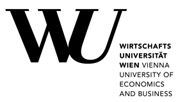 Growth and Employment in Europe: Sustainability and Competitiveness, Department of Economics, WU (Wirtschaftsuniversität Wien)
---
No. 49: Dynamic Effects of Regulation and Deregulation in Goods and Labour Markets


Pasquale Commendatore and Ingrid Kubin
No. 48: Distribution and Globalization: A Wage Bargaining Model


Ozlem Onaran
No. 47: Optimal Taxation of Gambling and Lotto


Walther Herbert
No. 46: The evolutionary theory of the firm: Routines, complexity and change


Werner Hölzl
No. 45: ARBEITSMARKTRIGIDITÄTEN ODER NACHFRAGEMANGEL? DIE URSACHEN DER ARBEITSLOSIGKEIT IN EUROPA


Engelbert Stockhammer
No. 44: DO PROFITS AFFECT INVESTMENT AND EMPLOYMENT? AN EMPRICAL TEST BASED ON THE BHADURI-MARGLIN MODEL


Ozlem Onaran and Engelbert Stockhammer
No. 43: Life After Crisis For Labor And Capital in the Era of Neoliberal Globalization


Ozlem Onaran
No. 42: A NOTE ON FRANCHISING AND WAGE BARGAINING


Thomas Grandner
No. 41: Estimates of capital stocks and capital productivity in Austrian manufacturing industries, 1978 -1994


Werner Hölzl and Robert Leisch
No. 40: Competitive Conspicuous Consumption, Household Saving and Income inequality


Walther Herbert
No. 39: ICT Revolution, Globalization and Informational Lock-in


Bulat Sanditov
No. 38: Sectoral and aggregate technology shocks: Is there a relationship?


Werner Hölzl and Andreas Reinstaller
No. 37: The effect of technology and demand shocks on structural and industrial dynamics: Evidence from Austrian manufacturing.


Werner Hölzl and Andreas Reinstaller
No. 36: Entry and Exit Dynamics in Austrian Manufacturing


Werner Hölzl and Sögner Leopold
No. 35: Economic Development, variety and employment


Paolo Saviotti and Andreas Pyka
No. 34: Gaining and Losing Competitive Advantage


Christian Bellak
No. 33: Tangible and intangible sunk costs and the entry and exit of firms in Austrian Manufacturing
Werner Hölzl
No. 32: Wettbewerbsbehörden - institutionelle Bedingung von Wettbewerbsmärkten


Reinhold Hofer
No. 31: Convergence of financial systems: Towards an evolutionary perspective
Werner Hölzl
No. 30: Some Current Issues in the Statistical Analysis of Spillovers


Daniela Gumprecht, Nicole Gumprecht and Werner G. Müller
No. 29: Social norms and equality of opportunity in conspicuous consumption: on the diffusion of consumer good innovation.
Andreas Reinstaller and Bulat Sanditov
No. 28: Synchronisation in multi-product firms: evidence from german grocery prices
Jens-Peter Loy and Christoph R. Weiss
No. 27: Stock markets, shareholder value and investment
Engelbert Stockhammer
No. 26: Complementarity constraints and induced innovation: Some evidence from the first IT regime


Andreas Reinstaller and Werner Hölzl
No. 25: Mindestlöhne und Beschäftigung: Ein Überblick über die neuere empirische Literatur.


Christian Ragacs
No. 24: On the Empirics of Minimum Wages and Employment: Stylized Facts for The Austrian Industry


Christian Ragacs
No. 23: The Rate of Interest, Economic Growth, and Inflation: An Alternative Theoretical Perspective


John Smithin
No. 22: Random Walks and Non-Linear Paths in Macroeconomic Time Series: Some Evidence and Implications


Franco Bevilacqua and Adriaan van Zon
No. 21: Exit, Entry and industry turbulence in Austrian Manufacturing, 1981-1994


Werner Hölzl
No. 20: Accumulation, distribution and employment: a structural VAR approach to a post-Keynesian macro model


Engelbert Stockhammer and Özlem Onaran
No. 19: Warum Mindestlöhne die Beschäftigung nicht reduzieren müssen: Ein Literaturüberblick


Christian Ragacs
No. 18: Multinational Enterprises and Their Domestic Counterparts: Past Research, Current Issues and Future Directions


Christian Bellak
No. 17: Three stages of net entry into Austrian manufacturing: entrepreneurial experimentation and actual entry
Werner Hölzl, Reinhold Hofer and Angelika Schenk
No. 16: WETTBEWERBS- UND STRUKTURPOLITIK ÖSTERREICHS


Christian Bellak, Reinhold Hofer and Peter Tschmuck
No. 15: The creative response in economic development: the case of information processing technologies in US manufacturing, 1870-1930


Andreas Reinstaller and Werner Hölzl
No. 14: Financialization and the Slowdown of Accumulation


Engelbert Stockhammer
No. 13: A Cross-Country Study on Okun's Law


Leopold Soegner and Alfred Stiassny
No. 12: The Adoption and Enforcement of a Technological Regime: The Case of the first IT Regime


Werner Hölzl and Andreas Reinstaller
No. 11: The Austrian Miracle - Revisited: Testing eight Explanations for High Growth and maybe a ninth


Martin Zagler
No. 10: Is There an Equilibrium Rate of Unemployment in the Long Run?


Engelbert Stockhammer
No. 9: Direct Versus Indirect FDI: Impact On Domestic Exports And Employment


Christian Bellak and Wilfried Altzinger
No. 8: The Slowdown of Accumulation and the Rise of European Unemployment


Engelbert Stockhammer
No. 6: Delinking Economic Growth from Environmental Degradation? A Literature Survey on the Environmental Kuznets Curve Hypothesis


Sigrid Stagl
No. 5: Ansätze für die österreichsiche Wachstumspolitik


Christian Ragacs and Martin Zagler
No. 4: What Determined the Uneven Growth of Europe´s Southern Regions? An Empirical Study with Panel Data


Gabriele Tondl
No. 3: Externalities, Growth, and Regional Stagnation


Gunther Maier
No. 2: Ökonomische Funktionen der österreichischen Abfertigungsregelung - im Lichte von Theorie und Empirie


Walther Herbert
No. 1: The Role of Macroeconomic Policy in Overcoming Slow Economic Growth - International Comparisons and Policy Perspectives


Ewald Nowotny

Download statistics for the working paper series and EBSLG
---
---
Report other problems with accessing this service to Sune Karlsson () or Helena Lundin ().
Programing by
Design Joakim Ekebom