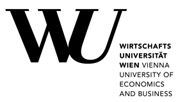 Growth and Employment in Europe: Sustainability and Competitiveness, Department of Economics, WU (Wirtschaftsuniversität Wien)
No 13:
A Cross-Country Study on Okun's Law
Leopold Soegner
()
and Alfred Stiassny
()
Abstract: Okun's Law postulates an inverse relationship between movements of the unemployment rate and the real gross domestic product (GDP). In this article we investigate Okun's law for 15 OECD countries and check for its the structural stability. By using data on employment and the labor force we infer whether structural instability is caused either from the demand side or the supply side.
Keywords: Okun's Law; Time Variing Parameter Models; (follow links to similar papers)
JEL-Codes: C51; D32; (follow links to similar papers)
September 2000
PDF Document
Before downloading any of the electronic versions below you should read our statement on copyright.
Download GhostScript for viewing Postscript files and the Acrobat Reader for viewing and printing pdf files.
Downloadable files:


gee!wp13.pdf    

Download Statistics
---
---
Report other problems with accessing this service to Sune Karlsson () or Helena Lundin ().
Programing by
Design Joakim Ekebom