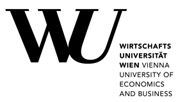 Growth and Employment in Europe: Sustainability and Competitiveness, Department of Economics, WU (Wirtschaftsuniversität Wien)
No 16:
WETTBEWERBS- UND STRUKTURPOLITIK ÖSTERREICHS
Christian Bellak
()
, Reinhold Hofer
()
and Peter Tschmuck
()
Abstract: Dieser Beitrag gibt einen selektiven Überblick zu theoretischen Konzeptionen von Wettbewerbs- und Strukturpolitik. Anschließend wird die Wettbewerbs- und Strukturpolitik Österreichs vor und seit dem EU-Beitritt anhand eines "Ziele-Mittel-Träger" Konzeptes dargestellt. Eine Fallstudie zum Mediensektor sowie die Einbettung in den internationalen Kontext ergänzen die Ausführungen.
Keywords: Wettbewerbspolitik; Strukturpolitik; Österreich; (follow links to similar papers)
JEL-Codes: L4; L5; K2; (follow links to similar papers)
August 2001
PDF Document
Before downloading any of the electronic versions below you should read our statement on copyright.
Download GhostScript for viewing Postscript files and the Acrobat Reader for viewing and printing pdf files.
Downloadable files:


gee!wp16.pdf    

Download Statistics
---
---
Report other problems with accessing this service to Sune Karlsson () or Helena Lundin ().
Programing by
Design Joakim Ekebom