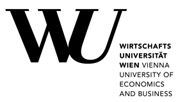 Growth and Employment in Europe: Sustainability and Competitiveness, Department of Economics, WU (Wirtschaftsuniversität Wien)
No 46:
The evolutionary theory of the firm: Routines, complexity and change
Werner Hölzl
()
Abstract: This paper provides an overview on the evolutionary theory of the firm. The specific feature of the evolutionary approach is that it explains the adaptive behaviors of firms through the tension between innovation and selection. It is suggested that the evolutionary theory can provide a useful basis for a theory of the firm which is concerned with change over time and development.
Keywords: theory of the firm, complexity, routines, change of routines; (follow links to similar papers)
February 2005
PDF Document
Before downloading any of the electronic versions below you should read our statement on copyright.
Download GhostScript for viewing Postscript files and the Acrobat Reader for viewing and printing pdf files.
Downloadable files:


geewp46.pdf    

Download Statistics
---
---
Report other problems with accessing this service to Sune Karlsson () or Helena Lundin ().
Programing by
Design Joakim Ekebom