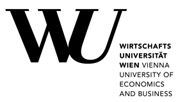 Growth and Employment in Europe: Sustainability and Competitiveness, Department of Economics, WU (Wirtschaftsuniversität Wien)
No 24:
On the Empirics of Minimum Wages and Employment: Stylized Facts for The Austrian Industry
Christian Ragacs
()
Abstract: We ask for the empirical evidence of the textbook theory of minimum wages for the Austrian Industry. The bargaining result of unions and firms is interpreted as a minimum wage, as the bargaining situation in Austria may be described best by a "right to manage-model". Based on the analysis of micro-founded "employment functions" in contrast to the predictions of the textbook analysis no significant negative effect of minimum wages on employment is found.
Keywords: Minimum Wages; Employment; Austrian Industry; (follow links to similar papers)
JEL-Codes: J23; J31; (follow links to similar papers)
April 2003
PDF Document
Before downloading any of the electronic versions below you should read our statement on copyright.
Download GhostScript for viewing Postscript files and the Acrobat Reader for viewing and printing pdf files.
Downloadable files:


gee!wp24.pdf    

Download Statistics
---
---
Report other problems with accessing this service to Sune Karlsson () or Helena Lundin ().
Programing by
Design Joakim Ekebom