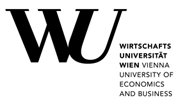 Working Papers,
Vienna University of Economics and Business Research Group: Growth and Employment in Europe: Sustainability and Competitiveness
WETTBEWERBS- UND STRUKTURPOLITIK ÖSTERREICHS
Christian Bellak (), Reinhold Hofer () and Peter Tschmuck ()
Additional contact information
Christian Bellak: Department of Economics, Vienna University of Economics & B.A.
Reinhold Hofer: Department of Economics, Vienna University of Economics & B.A.
Peter Tschmuck: Institut für Kulturmanagement, Musikuniversität Wien
Abstract: Dieser Beitrag gibt einen selektiven Überblick zu theoretischen Konzeptionen von Wettbewerbs- und Strukturpolitik. Anschließend wird die Wettbewerbs- und Strukturpolitik Österreichs vor und seit dem EU-Beitritt anhand eines "Ziele-Mittel-Träger" Konzeptes dargestellt. Eine Fallstudie zum Mediensektor sowie die Einbettung in den internationalen Kontext ergänzen die Ausführungen.
Keywords: Wettbewerbspolitik; Strukturpolitik; Österreich
JEL-codes: L4; L5; K2 August 2001
Note: PDF Document
Full text files
gee!wp16.pdf  
Report problems with accessing this service to Sune Karlsson ().
This page generated on 2018-02-15 23:08:22.