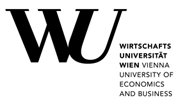 Working Papers,
Vienna University of Economics and Business Research Group: Growth and Employment in Europe: Sustainability and Competitiveness
On the Empirics of Minimum Wages and Employment: Stylized Facts for The Austrian Industry
Christian Ragacs ()
Additional contact information
Christian Ragacs: Department of Economics, Vienna University of Economics & B.A.
Abstract: We ask for the empirical evidence of the textbook theory of minimum wages for the Austrian Industry. The bargaining result of unions and firms is interpreted as a minimum wage, as the bargaining situation in Austria may be described best by a "right to manage-model". Based on the analysis of micro-founded "employment functions" in contrast to the predictions of the textbook analysis no significant negative effect of minimum wages on employment is found.
Keywords: Minimum Wages; Employment; Austrian Industry
JEL-codes: J23; J31 April 2003
Note: PDF Document
Full text files
gee!wp24.pdf  
Report problems with accessing this service to Sune Karlsson ().
This page generated on 2018-02-15 23:08:22.