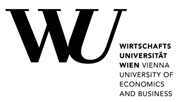 Department of Economics Working Papers,
Vienna University of Economics and Business, Department of Economics
Fixed Price Dynamics versus Flexible Price Dynamics
Martin Currie and Ingrid Kubin ()
Additional contact information
Martin Currie: School of Economic Studies, Victoria University of Manchester, UK
Ingrid Kubin: Department of Economics, Vienna University of Economics & B.A.
Abstract: This paper contrasts the dynamical behaviors of fixed and flexible price regimes for a monopolistically competitive manufacturing sector in which firms base decisions on expectations about product demands.
JEL-codes: C62; D43; L13 January 2005
Note: PDF Document
Full text files
wu-wp89.pdf  
Report problems with accessing this service to Sune Karlsson ().
This page generated on 2018-02-15 23:08:24.