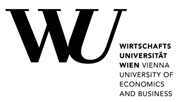 Department of Economics Working Papers,
Vienna University of Economics and Business, Department of Economics
The Nationalökonomische Gesellschaft (Austrian Economic Association, NOeG) in the Interwar Period and Beyond
Hansjörg Klausinger ()
Additional contact information
Hansjörg Klausinger: Department of Economics, Vienna University of Economics and Business
Abstract: The Nationalökonomische Gesellschaft (Austrian Economic Association, NOeG) provides a prominent example of the Viennese economic circles that more than academic economics dominated scientific discourse in the interwar years. For the first time this paper gives a thorough account of its history, from its foundation 1918 until the demise of its long-time president, Hans Mayer, 1955, based on official documents and archival material. The topics treated include its predecessor and rival, the Gesellschaft österreichischer Volkswirte, the foundation 1918 soon to be followed by years of inactivity, the relaunch by Mayer and Mises, the survival under the NS-regime and the expulsion of its Jewish members, and the slow restoration after 1945. In particular, an attempt is made to provide a list of the papers presented to the NOeG, as complete as possible, for the period 1918-1938.
Keywords: History of economic thought, Austrian school of economics, Vienna economic circles, University of Vienna
JEL-codes: A14; B13; B25 May 2015
Note: PDF Document
Full text files
wp195.pdf  
Report problems with accessing this service to Sune Karlsson ().
This page generated on 2018-02-15 23:08:28.