Downloads from EBSLG
Fulltext files and Additional files (supplementary files) are files downloaded from the EBSLG server, Redirected files are files downloaded from a server maintained by ESSEC Research Center, ESSEC Business School.
The statistics for 2010-06, 2012-04 (half month), 2012-05 and 2012-06 have unfortunately been lost. We regret this.
Papers at EBSLG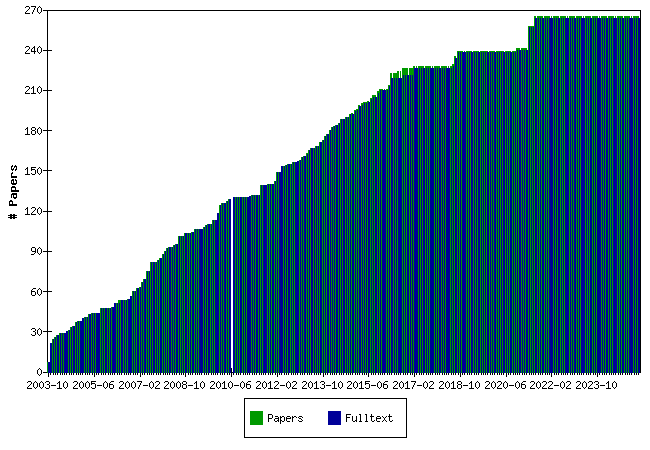 Top 10 Papers by Abstract Accesses Last Month (2017-08)
Paper
Accesses
Strategy and Organization Improving Organizational Learning
Jean-Claude Tarondeau
12
Monte Carlo Simulations versus DCF in Real Estate Portfolio Valuation
Michel Baroni, Fabrice Barthélémy and Mahdi Mokrane
10
Evolution comparée de la consommation de médicaments dans les 5 pays européens entre 2000 et 2004 : analyse de 7 classes pharmaco-thérapeutiques
Gérard Viens, Karine Levesque, Pierre Chahwakilian, Abdelkader El Hasnaoui, Anne Gaudillat, Guénolé Nicol and Caroline Crouzier
9
La création d'entreprise au féminin dans le monde occidental
Viviane de Beaufort
8
Value Relevance of R&D Reporting : A Signaling Interpretation
Anne Cazavan-Jeny and Thomas Jeanjean
8
Strategic Human Resource Management Practices: An Exploratory Survey of French Organisations
Jean-Luc Cerdin and Ashok SOM
7
Public Property Privatization in France
Bernard Bizet
7
Assurance maladie en Suisse : l'assurance supplémentaire nuit-elle à la concurrence sur l'assurance de base ?
Brigitte Dormont, Pierre-Yves Geoffard and Karine Lamiraud
7
One share-One vote, le nouveau Saint Graal
Viviane de Beaufort
7
Management Accounting Change in the Public Sector: A French Case Study and a New Institutionalist Perspective
Annick Bourguignon, Olivier Saulpic and Philippe Zarlowski
7
The Impact of Lease Structures on the Optimal Holding Period for a Commercial Real Estate Portfolio
Charles-Olivier Amédée-Manesme, Michel Baroni, Fabrice Barthélémy and Mahdi Mokrane
7
Rank papers for other time periods
Top 10 Papers by File Downloads Last Month (2017-08)
Rank papers for other time periods
Top 10 Papers by Abstract Accesses Last 3 Months (2017-06 - 2017-08)
Paper
Downloads
Strategy and Organization Improving Organizational Learning
Jean-Claude Tarondeau
42
Monte Carlo Simulations versus DCF in Real Estate Portfolio Valuation
Michel Baroni, Fabrice Barthélémy and Mahdi Mokrane
33
Strategic Human Resource Management Practices: An Exploratory Survey of French Organisations
Jean-Luc Cerdin and Ashok SOM
25
Liquidity Supply across Multiple Trading Venues
Laurence Lescourret and Sophie Moinas
23
Relation entre le prix du pétrole et les cours boursiers des grandes compagnies pétrolières mondiales
Francis Declerck, Jean-Pierre Indjehagopian and Flavien Bellocq
20
Management Accounting Change in the Public Sector: A French Case Study and a New Institutionalist Perspective
Annick Bourguignon, Olivier Saulpic and Philippe Zarlowski
19
On the origins of a Conflict of Interest in the Mutual Fund Industry
Sébastien M. Lemeunier
19
Cartels globaux, riposte américaine. L'ère Empagran ?
Med Rezzouk
18
Leadership beyond the Tipping Point: toward the Discovery of Inversions and Complementary Hypotheses
Fabrice Cavarretta, Sean Hannah, Ronald Piccolo and Mary Uhl-Bien
18
Une échelle de mesure de la connaissance en raisonnement économique et résultats d'une enquête menée en décembre 2009
Radu Vranceanu, Maxime Laot and Delphine Dubart
18
Fear of novelty : a model of scientific discovery with strategic uncertainty
Damien Besancenot and Radu Vranceanu
18
Evolution comparée de la consommation de médicaments dans les 5 pays européens entre 2000 et 2004 : analyse de 7 classes pharmaco-thérapeutiques
Gérard Viens, Karine Levesque, Pierre Chahwakilian, Abdelkader El Hasnaoui, Anne Gaudillat, Guénolé Nicol and Caroline Crouzier
18
Current account and real exchange rate changes : the impact of trade openness
Davide Romelli, Christina Terra and Enrico Vasconcelos
18
Rank papers for other time periods
Top 10 Papers by File Downloads Last 3 Months (2017-06 - 2017-08)
Rank papers for other time periods
---
---
Programing by
Design Joakim Ekebom