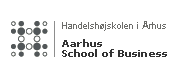 Financial Reporting Research Group Working Papers,
University of Aarhus, Aarhus School of Business, Department of Business Studies
2006
No R-2006-4: Is there something rotten in Denmark? Earnings management to avoid small losses.


Finn Schøler
No R-2006-3: The accrual anomaly – focus on changes in specific unexpected accruals results in new evidence.


Finn Schøler
No R-2006-2: Experienced and Novice Investors: Does Environmental Information Influence on Investment Allocation Decisions?


Claus Holm and Pall Rikhardsson
No R-2006-1: Settlement-date Accounting for Equity Share Options – Conceptual Validity and Numerical Effects


Peder Fredslund Møller
2004
2005
2006
Download statistics for the
series
and
EBLSG
Questions (including download problems) about the papers in this series should be directed to Helle Vinbaek Stenholt ()
Report other problems with accessing this service to Sune Karlsson ().
This page generated on 2018-02-15 23:06:13.