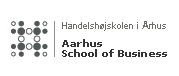 CLS Working Papers,
University of Aarhus, Aarhus School of Business, Centre for Labour Market and Social Research
2002
No 02-99: Integration over generationer? Andengenerationsindvandrernes uddannelse


Michael Rosholm, Leif Husted and Helena Skyt Nielsen
No 02-2: Non-Response Bias – A Study Using Matched Survey-Register Labour Market Data


Peder J. Pedersen
No 02-1: Integration over generationer? Andengenerationsindvandrernes uddannelse.


Michael Rosholm, Leif Husted and Helena Skyt Nielsen
2000
2001
2002
Download statistics for the
series
and
EBLSG
Questions (including download problems) about the papers in this series should be directed to Helle Vinbaek Stenholt ()
Report other problems with accessing this service to Sune Karlsson ().
This page generated on 2018-02-15 23:06:16.